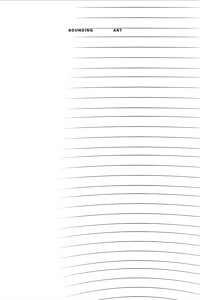 $

10.00
Sounding Art is a Decibel new music project that involved commissioning 7 artists to create artworks to be read as music notation. This is the catalogue of the project, and is a 52 page book with colour prints and a QR code leading to the performances of the works.
The artists featured are Matt Hunt, Kevin Robertson, Erin Coates, Marco Fusinato, Brigid Burke, Tina Havelock Stevens and Lucas Abela. The catalogue includes an essay by Cat Hope, as well as biographies and notes from all the artists.
The exhibition was held at the Packenham Street Art Space in Fremantle, Western Australia between the 2nd and 29th of September, with a live premiere performance on 3rd September 2017.
The artists have been chosen for their connection with music, rather than their abilities to 'make scores' - from artists that play in bands, or have featured musicians in their works, have worked with musicians on work or have works that can be read as music. A range of media are featured - sculpture, painting, video and drawing.